Puppies are here!!!
Please see the Litters page for more details.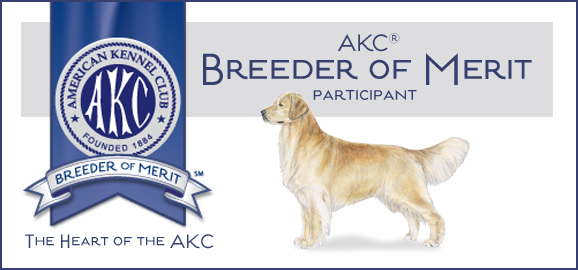 Welcome
We are dedicated to producing and preserving health, structure, soundness, and temperament. Our goal is to produce a solid, sound golden with a strong work ethic, and hunting and performance ability, while maintaining the wonderful temperament a golden is known for.
We have been breeding, raising, and showing goldens since 1991. All puppies are sold on a spay/neuter contract and Limited Registration, unless sold for performance/show purposes, with a written guarantee against hereditary diseases. All dogs used in the Kelakye breeding program have been cleared for hip dysplasia, elbow dysplasia, cataracts, PRCD and heart disease.

Puppies are raised in our home for maximum socialization. Puppies are temperament tested on the 49th day, and then each is carefully matched to a home that is best suitable for that puppy. Adding a golden retriever puppy to your family is a very important decision; it should NOT be impulsive. Breeders have a responsibility to place their puppies in homes that are educated about the breed or have owned a golden in the past. A golden is not for everyone. They are very active, high energy dogs and shed considerably.
The price of our puppies is a reflection of the investment we have made to ensure that future generations are as healthy as they can be.
For more information about golden retrievers, please visit the "Resources/Education" page of this website.
We are members of The Golden Retriever Club of
America
and The Golden Retriever Club of
Illinois
. Our family has helped coordinate the GRCI Hunt Test in May since 2003.
Please also visit www.mgrbr.org for a list of reputable breeders in the Midwest

The GRCA provides puppy referral as a convenience to puppy buyers to find out about breeders who are GRCA members and their litters. GRCA takes no responsibility whatsoever for any puppies/dogs that you may acquire through GRCA puppy referral. GRCA is not responsible for any breeder's sale practices and sales contracts, nor will GRCA be involved in any manner in contract disputes between puppy buyers and breeders. Availability of puppies and conditions of sale are at the sole discretion of the individual breeder. Buyers are encouraged to read ACQUIRING A GOLDEN RETRIEVER, as found on the grca.org web-site, for general information about obtaining a puppy, to take as much time as necessary to locate a reputable breeder from whom they feel comfortable purchasing a puppy, and to investigate breeders and their puppies thoroughly before committing to a purchase. You are not obligated to purchase a puppy from the breeders whose names you obtain from GRCA puppy referral.